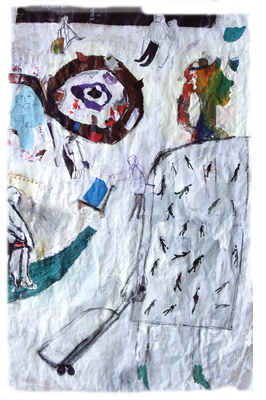 Costa Bernstein, 41, is a citizen of the world, an artist for an era in which time and place have become less important than substance. Born in

St. Petersburg

(then Leningrad), he began formal, classical art training at the age of 11 at the acclaimed Tosno Children's Arts School. As the

Berlin Wall

fell, Bernstein was attending an architectural college in his hometown.

Immigrating to Israel in 1992, the young artist continued his education with another recent arrival to Israel, Professor Irena Barilev (formerly of the Repin Academy of the Fine Arts in St. Petersburg) while also learning graphic design. Since 1998, Bernstein has been employed in the arts, working as a freelance illustrator and graphic designer and a lecturer in Graphic Composition in Emek Israel College. He also worked during this time at Bet Levinstein, a Raanana rehabilitation center.

Currently, Bernstein lives and works in Frankfurt am Main, Germany.

Today, Bernstein has the esteem to be able to devote himself to his oil and charcoal works, and he is frequently invited to exhibit his art.

The artist's work, in mixed media, reflects his diverse life experience in an ever-changing world, and his open access to several philosophies and political attitudes in the places he has been. Integrating this understanding into a cogent, individual way of thinking and working seems to have hit a chord; Bernstein's artistic fusion is a visceral exercise in empathy.

Using the most cutting-edge professional tools alongside his traditional education, Bernstein's content speaks as many languages as he does, but more importantly one language: his own.